Book Club
Book Club
3rd Fridays at Immanuel (year round - come when you can!)
Join us each month for lively discussion on books that are currently popular, or maybe some old classics! All are welcome to join.
September 22
A Lesson Before Dying by Ernest J. Gaines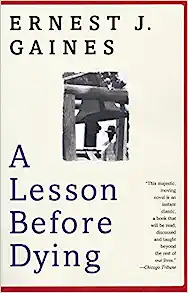 Set in the rural south in the 1940s during Jim Crow laws and racial segregation, the novel tells the story of a falsely-accused young black man on death row and a Louisiana-born, college-educated teacher who visits him in prison and helps him regain his dignity. Jefferson is an innocent and unwitting party to a deadly liquor store shoot-out. As the only survivor, he is tried and convicted of murder and sentenced to death. Grant Wiggins, a university-trained teacher at the plantation school, is persuaded to visit Jefferson in his cell. Wiggins is torn between staying in his native Cajun community or moving on. The two men gradually form a bond as they jointly discover the simple heroism of resisting - and denying - the expected.
October 20
The Last Train to London by Meg Waite Clayton
In 1936, the Nazi are little more than loud, brutish bores to fifteen-year old Stephan Neuman, the son of a wealthy and influential Jewish family and budding playwright whose playground extends from Vienna's streets to its intricate underground tunnels. Stephan's best friend and companion is the brilliant Žofie-Helene, a Christian girl whose mother edits a progressive, anti-Nazi newspaper. But the two adolescents' carefree innocence is shattered when the Nazis' take control. There is hope in the darkness, though. Truus Wijsmuller, a member of the Dutch resistance, risks her life smuggling Jewish children out of Nazi Germany to the nations that will take them. It is a mission that becomes even more dangerous after the Anschluss—Hitler's annexation of Austria—as, across Europe, countries close their borders to the growing number of refugees desperate to escape. Tante Truus, as she is known, is determined to save as many children as she can. After Britain passes a measure to take in at-risk child refugees from the German Reich, she dares to approach Adolf Eichmann, the man who would later help devise the "Final Solution to the Jewish Question," in a race against time to bring children like Stephan, his young brother Walter, and Žofie-Helene on a perilous journey to an uncertain future abroad.
November 17
Lessons in Chemistry by Bonnie Garmus
A fun, feminist charmer, the novel follows single mother Elizabeth Zott, a brilliant chemist in a man's world--1960s America--as she becomes an unlikely cooking-show host and the role model her daughter deserves. Elizabeth's unusual approach to cooking ("combine one tablespoon acetic acid with a pinch of sodium chloride") proves revolutionary. But as her following grows, not everyone is happy. Because as it turns out, Elizabeth Zott isn't just teaching women to cook. She's daring them to change the status quo. Laugh-out-loud funny, shrewdly observant, and studded with a dazzling cast of supporting characters, Lessons in Chemistry is as original and vibrant as its protagonist.
For more information contact:
Sara Bonk (sarabonk9844@gmail.com) or Diane Chapa (dianechapa@gmail.com)