Fellowship Activities
Fellowship Events at Immanuel
We encourage the people of God to engage in fellowship with each other! Why?
It is an avenue that God uses to bless us and connect us with others who are growing in their faith.
In fellowship gatherings we learn more about God and each other.
We find people we can laugh with and share our lives.
We grow spiritually when we share our faith journeys with others in the Body of Christ.
It provides a sense of stability, a sense of belonging, of being needed and of being loved.
Advent Smorgasbord Celebration
Thursday, December 7, 5:00-8:30pm
Immanuel's Advent/Christmas Smorgasbord will be Thursday, December 7th, beginning with appetizers and fellowship at 5pm, 6pm dinner followed by dessert and holiday entertainment. Learn more.
Volleyball Leage
I loved getting back into volleyball", "lots of fun!", "Great fun as always", were just a few comments after last year's winter volleyball league at Immanuel.
Get involved this year as a team, individual or group.
Only $10/person for theThursday night league which runs throughout the months of January and February.
Teams are co-ed.
Childcare is available upon request - 1 week advanced notice.
Sign yourself up along with a friend or five and burn away those winter blues!
Family Camp for EVERYONE!
Dates July 28 - August 2, 2024 at Outlaw Ranch, South Dakota
Come spend quality time with your church family in a relaxed atmosphere, featuring great food and Christian community in a peaceful Black Hills valley. The camp connects multiple generations as parents, children, grandchildren, and singles come together for a week of family camp. Outlaw Ranch welcomes families of all sizes and descriptions! During this week you'll live in a community of grace surrounded by family and friends as you play, pray, worship, and grow together in faith.
The camp week is structured so that things like eating and worshipping (featuring musical artist Paul Tietjen) take place together but the Bible studies give you time to learn with others in more age appropriate ways. Adults gather for Bible study with Pastor/Artist Paul Oman as he teaches and paints the parables of Jesus as they would have been understood in Jesus' time, kids do age-appropriate Bible study with the counselors at the same time, there is even nursery care for the youngest campers. The afternoons are filled activities with activities to do together or separately, including the ability for some local sightseeing and adventures. Choose opportunities from hiking, horseback riding, art, games, cultural education, canoeing, and more. Accommodations range from lodge rooms with shared indoor bathrooms to cabins with a central shower house to pitching your own tent! All meals are provided (and delicious). The lodge and dining hall have ADA accessible entries.
Interested? Learn more about the week here and come talk with Pastor Dan on 12/13 from 5-5:30 about how you can get registered for this amazing week.
SALT (Senior Adults)
Seniors Actively Living Today
We are all salt of the earth. Seniors definitely fit in this category because we can add flavor to our own lives while enriching the lives of our families. Plan to be a part of this vibrant senior group. Hope to see you whenever you can make an event geared especially to you. Each month we will sponsor an event that will rotate with Learn and Grow, Service and Social.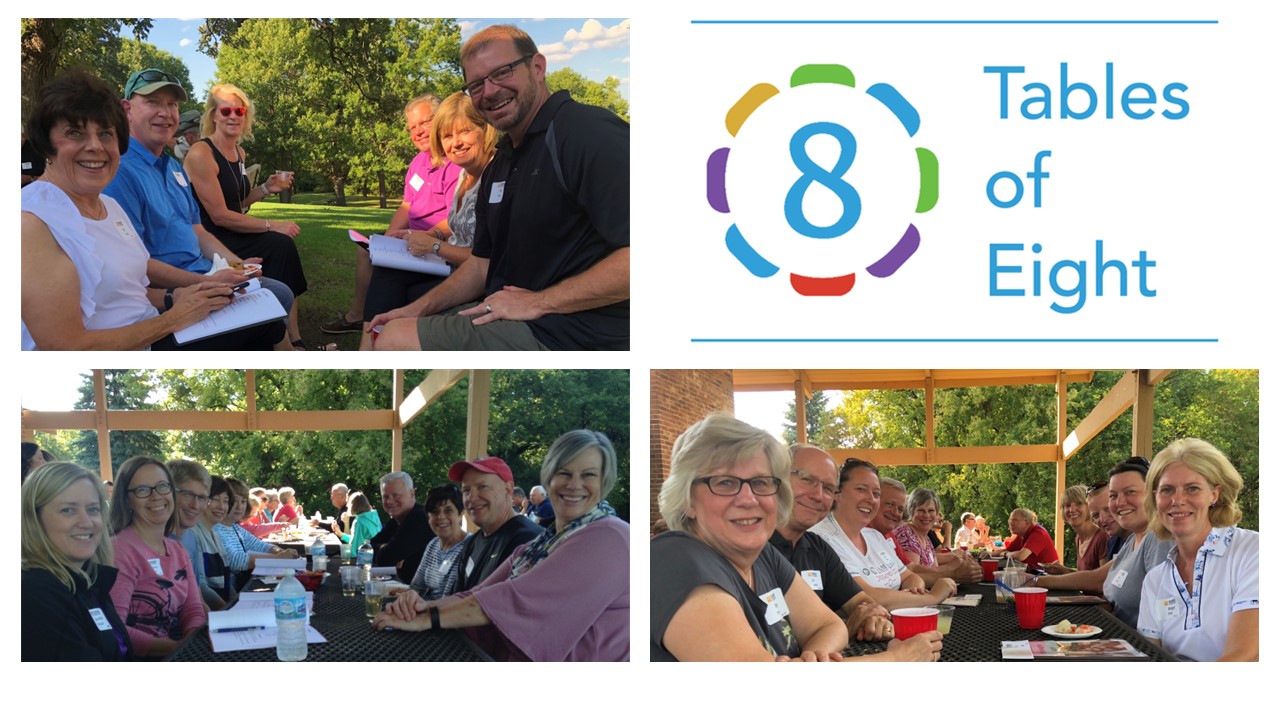 Tables of 8
The best blessings in life are the gifts we share together. These "together" gifts include friendship, faith, support, laughter, and encouragement. Life is better together! Life is blest when we share these gifts. Immanuel is inviting you to be part of an incredible opportunity to share friendship, faith, and the gifts of community by being part of Tables of Eight!
Tables of Eight:
Gathers 8 people together four times a year to share a meal and build relationship with one another.
Is a wonderful way for couples and singles to meet new people and build deeper, more meaningful relationships within the congregation.
For each meal a host is selected and people take turns bringing different portions of the meal including hors d'oeuvres, salad, sides, main course, and dessert.
Menus and recipes for the four meals are provided.
If you can't attend the kick-off event you can still participate!
Do you have ideas for fellowship events? Contact Pastor Dan Nelson!